Spirit of Ireland – Irish Music and Dance Show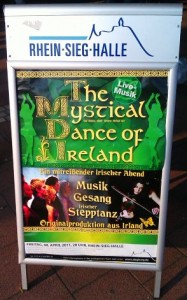 In March and April 2011 Spirit of Ireland ( also known as Mystical Dance of Ireland) embarked on their annual tour across Germany reaching Switzerland and Luxembourg. Spirit of Ireland is an exciting Irish dance show which features live Irish music.  In 2011 Tina joined them  on their tour as the keyboard player.
Rehearsals started in Ballybunion, County Kerry before flying to Germany to begin the tour.  The troupe were away for 3 weeks and performed 18 shows at 18 different venues.  With a cast of 8 dancers, 6 musicians and a singer it was a very busy and most enjoyable show to be a part of.
Each day was jam packed with travelling to the new destination, sound checks and the show.  When the troupe had days with a short travel they were able to relax a little before the show.  They got to unwind in hotel pools, see the largest cold water geyser in the world and even got to go to the zoo!
The troupe had an amazing team travelling with them including Joseph the bus driver, Christa the costume lady, Lorenze the sound engineer and Pavel the lighting engineer.  Without them, and many others who were involved in building the stage at each venue, the show would not have been possible.
Spirit of Ireland tour 2011 was an amazing experience. Tina got to meet so fantastic musicians and dancers during her time with them and it's an experience she will always remember.