TMSA YOUNG TRAD TOUR 2011: 19th OCT – 6th NOV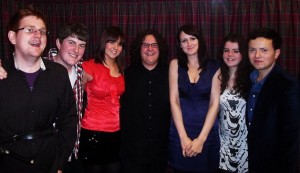 The TMSA Young Trad Tour 2011 took place from 19th October to 6th November at various venues across Scotland.  As one of the 6 finalists from this year's BBC Radio Scotland Young Traditional Musician of the Year Tina Jordan Rees was lucky enough to go on this fantastic tour as the pianist with all the finalists plus the previous year's winner.  The tour started in Dundee and ended in Coldingham in the Borders visiting Orkney, Lyth, Inverness, Aberfedly, Livingston, Campbeltown, Portree, St. Andrews and Glasgow in between. 
The TMSA Young Trad Tour also performed a concert at Celtic Connections which took place on Sat 4th February 2012.
Get your copy of the TMSA Young Trad Tour 2011 CD here
Visit Tina's Video page to watch videos of the Young Trad Tour's gigs.