I had a fantastic time on the 2016 Highland Blast tour. Highland Blast is a family run tour by the Feuerstein's. This year's tour ran from 9th-21st November with 10 concert dates across Germany. The bands were Rura and Barrule, and I was the dancer.
We performed in Rödermark, Mühlhausen, Twist, Neuss, Bochum, Lüneburg, Delmenhorst, Dortmund, Bad Elster, and Gelsenkirchen. There were some fantastic venues on the tour but in particular the König Albert Theater in Bad Elster was a beautiful venue, and Schloss Horst in Gelsenkirchen was amazing.
The show began with Steven Blake (Rura) piping. I would then join him for a few steps. Then Barrule would do the first half of the show and I would join them during one of their sets. Then there was an interval after which Steven would again do a piping set, and I would dance. Next was the raffle! You know it's a good night when there's a raffle. Carla announced the raffle and I drew the tickets. The start prize each night was a bottle of whisky! After the excitement of the raffle Rura would do the second half of the concert, again with me joining them for one of their sets. Then at the end of the night there were three encore sets where all the musicians came together. I played the flute in these sets and also did a bit of dancing.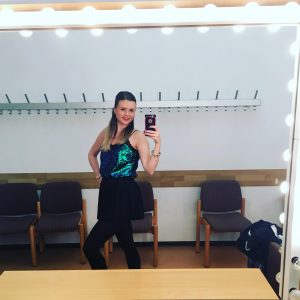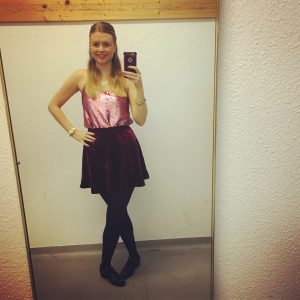 Each day consisted of breakfast in the hotel, or at the Feuerstein's when in Bochum, a trip across many motorways in the tour vans, set up and soundcheck at the venue, dinner, and the concert. Some days were shorter journeys than others but in general we didn't have time to see any local sights. One morning we got an hour to look around the very pretty town of Lüneburg. We had a day off towards the end of the tour and we went to the Christmas market in Bochum which was great. Lots of lovely food and Glühwein, and we also go to see Santa fly through the sky.
Although the tour was good fun, it really wasn't the same without Jack (fiddler in Rura), who was taken to hospital after the second gig with a collapsed lung. He stayed in hospital for the duration of the tour, and longer, whilst he had an operation! Thankfully he's home and on the mend now!
I really enjoyed dancing in the Highland Blast shows. It was fantastic to have a good stage to dance on, and to have a foot mic for the taps to be heard! And it was lovely to be away with nice musicians and pals from Glasgow.