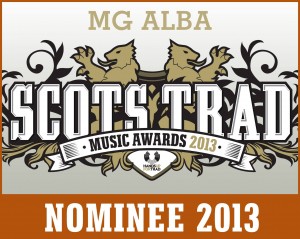 I am absolutely delighted to have been nominated in the "Up and Coming Artist of the Year" category in the 2013 MG Alba Scots Trad Music Awards.
The awards will take place in Aberdeen on Saturday 7th December 2013. I have enjoyed going to the awards for the past few years. They are great fun and really help bring trad music into the media spotlight.
I'm really looking forward to going up to Aberdeen to them this year and having a fantastic night with great friends and musicians. What a lovely big folky Christmas party!
There is still a little bit of time left to vote for your favourite acts, click here to vote now.