It's a new year and the diary is filling up with all sorts of exciting musical things. I thought I'd have a look back over some of the things I got up to in 2014.
January – Celtic Connections
Gráinne and myself played at the Late Night Sessions in the Piping Centre which was great fun. What a lovely atmosphere there was. This year we are extremely excited to say that we have a gig in the Piping Centre on Friday 30th January supporting Mary Bergin and Kevin Conneff. Tickets can be bought here.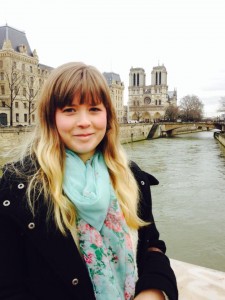 February – Live at Lofi / Paris
In February I had the opportunity to head over to Paris for a gig with Adam Sutherland which was a 'People Make Glasgow' event. It was a lovely gig and we even managed to get a little look around Paris the next day.
February also saw Gráinne and myself record a Live at Lofi session as part of their Celtic Connections series. We played some sets and had a chat about what we'd been up to.
March – Irish Dancing Competitions
In March I played the music at a couple of Irish dancing competitions. The first one was a lovely little féis in Edinburgh. It was also very nice being able to just drive straight there and back on the same day as usually they are much further away. The second was the St Patrick's Day Féis in Newcastle ran by Mary Kelly. This was my first time playing at the féis and it was a nice day. I'm very happy that I've been asked to play at this years' féis too.
April – World Irish Dancing Championships / Tune of the Week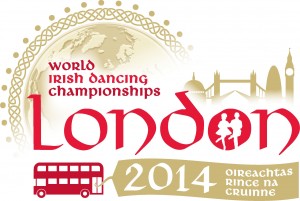 I went down to London for the week of the An Coimisiún World Irish Dancing Championships. I went with my sister who had her first céilí team dancing in the competition since she passed her TCRG exam. On the day of the competition I helped with putting wigs on the girls and making sure everything was in place. For the rest of the week we enjoyed watching the dancing.
I began a project called #tuneoftheweek this month. I set myself the task of composing one tune every week. Each week I would compose a tune, arrange and record it and then post it on my website with a small blog. I did this for 35 weeks!
May – Sewing Course
In May I started a little sewing course. I went to The Stitchery in Glasgow for 5 lessons where I was learning how to make a skirt from a pattern. I did have basic sewing skills already but I wanted to improve them and read from a pattern so that in the future I will be able to make Irish dancing costumes. I really enjoyed my lessons and I'm proud of the skirt that I made.
June – G&T Gigs / Top Floor Taivers first gig
June was a very busy month. It was my dad's 60th and one of my friends who I used to work with in the summer holidays got married.
On top of that Gráinne and myself had two gigs in one day (it all seems to come at once). We played at the Allanton World Peace Festival in Dumfries and then we went straight onto the Killearn Hoolie where we were joined by Megan Henderson.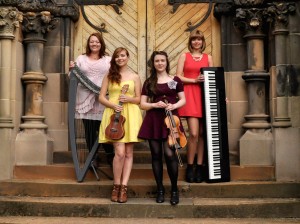 Top Floor Taivers had our very first gig at the Royal Highland Show which was great. We had lovely weather which was much appreciated with the outdoor stages. We played on two stages and it went really well. We did however get quite a shock in our last song as we had forgotten to soundcheck the distortion pedal for the harp and it sounded like the PA had exploded! We've learnt from that now….
July – Ely Folk Festival / Top Floor Taivers EP Recording / Tinto / Féis
I didn't have much in the diary until quite close to July and then it filled up to bursting! I started off by heading down to Ely Folk Festival with Barluath as I was filling in for their piano player. We opened the festival on the Friday night and then did an acoustic set and 'meet the band' session at lunch time the next day. I really enjoyed the festival and us girls got to stay with my sister which meant we didn't have to camp 🙂
In mid-July Top Floor Taviers recorded our debut EP in La Chunky Studios with Barry Reid. We did four songs and we had a great time recording. At the end of the week we all went out for a meal together to celebrate.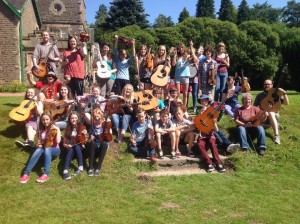 The next week I was at Wiston Lodge near Biggar for Tinto. There were two taster sessions for Tinto that week and it was the first time that Hands Up For Trad had been able to offer the tasters for completely free which is fantastic. I was the piano tutor for the week alongside Findlay Napier on guitar. It was one of the hottest weeks of the summer and so we got to play a lot of frisbee during free time which was fun.
At the end of the month I played at a CAID féis near Edinburgh. It was a nice competition and was the first time I had played for this organisation.
August – EP Mixing / Partick Folk Club
G&T played at Partick Folk Club as part of a showcase night where four bands performed. It was great fun playing in our local folk club, what a lovely audience.
We mixed the EP for Top Floor Taivers. It was nice to come back to it with fresh ears a while after recording it.
[soundcloud url="https://api.soundcloud.com/playlists/49379163″ params="color=ff5500&auto_play=false&hide_related=false&show_comments=true&show_user=true&show_reposts=false" width="100%" height="450″ iframe="true" /]
September – Distil Scratch Band Day
I took part in the Distil Scratch Band Day in Lofi Studios. We had to write for drums and so I wrote a drum part for one of my tunes that I had written during my #tuneoftheweek project called 'Ducks at Luss'. It was brilliant being able to work with the scratch band and hearing my piece come to life. Here is a live recording from the scratch band day.
[soundcloud url="https://api.soundcloud.com/tracks/170004389″ params="color=ff5500&auto_play=false&hide_related=false&show_comments=true&show_user=true&show_reposts=false" width="100%" height="166″ iframe="true" /]
October – G&T Mini Irish Tour / Aviemore Feis
I went to Ireland with Gráinne where we had organised a mini tour. We played at the Cafe Sessions in Cavan, the Cobblestone in Dublin and then we played at the Seamus Ennis Centre in Naul where we supported Dick Gaughan. We were delighted to hear Dick say about us "it's very rare you hear something that makes you go wow, that's totally original!". You can watch all the videos from this gig on our website.
Straight after getting back from Ireland I drove up to Aviemore where I was tutoring at the feis there. This was my first time as a tutor at the feis and I really enjoyed it. What a lovely bunch of tutors there were for the week and the kids were great to teach too.
November – Live Music Now Tour / Islay Sessions / Lau Land
November shaped up to be very busy as well. I had a Live Music Now tour of Speyside with Kristan Harvey. We had a run of seven gigs across primary schools and old folks homes.
G&T played at The Islay Sessions which was brilliant. We were over for the whole weekend with a number of other bands. We helped to run a ceilidh, gave workshops, hosted sessions and played at the grand concert. It was a fantastic festival.
At the end of the month Gráinne and myself were delighted to be chosen to play at Lau-Land as part of the emerging music platform there. Paul Mc Clure came over to play bodhrán with us which was brilliant.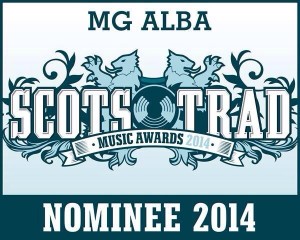 December – The Trad Awards
I am still absolutely over the moon to have been nominated in the 'Composer of the Year' category at the MG ALBA Scots Trad Music Awards. The awards were held in Inverness. Unfortunately I didn't win but I'm so happy to have been a nominee. It was a lovely way to end the year.
Throughout the Year
On top of all the above events I was also running two folk music sessions a week in the Lismore Bar with Gráinne Brady and have a number of private pupils who I teach weekly. I was very excited to enter my first students in for their piano exams this winter and I'm delighted that they all passed with flying colours 🙂
Looking back, 2014 was a very busy year with lots of exciting and positive things happening. I'm looking forward to more of the same in 2015 and to continuing to grow as a musician, composer, performer and human!