On 12th & 13th June 2015 I gave workshops on Composition in Traditional Music as part of the Music For Youth Exchange weekend in Glasgow. We chatted all about different ways to go about composing in traditional music. The main thing to remember is that there is no right or wrong way to compose something.
Tune Composition
On the Friday there were a number of folk who turned up to take part in the workshop. Graham Rorie and Aidan Moodie (Gnoss) came with their instruments which was fantastic. We had a limited amount of time to compose the tune in the workshop so we had to make decisions fast. As a group we decided on D major for the tune and that it would be a jig in 6/8. We then chose to start by writing a chord pattern. Aidan came up with the chords on his guitar (with the approval of the others in the workshop) and then Graham improvised around the chords on his fiddle until he had a solid tune. We did this for the A part and the B part of the tune. At the time we said that the form of the tune would be ABA. Here's the dots for the tune and rough recording from the day. We're playing the tune AABBAA.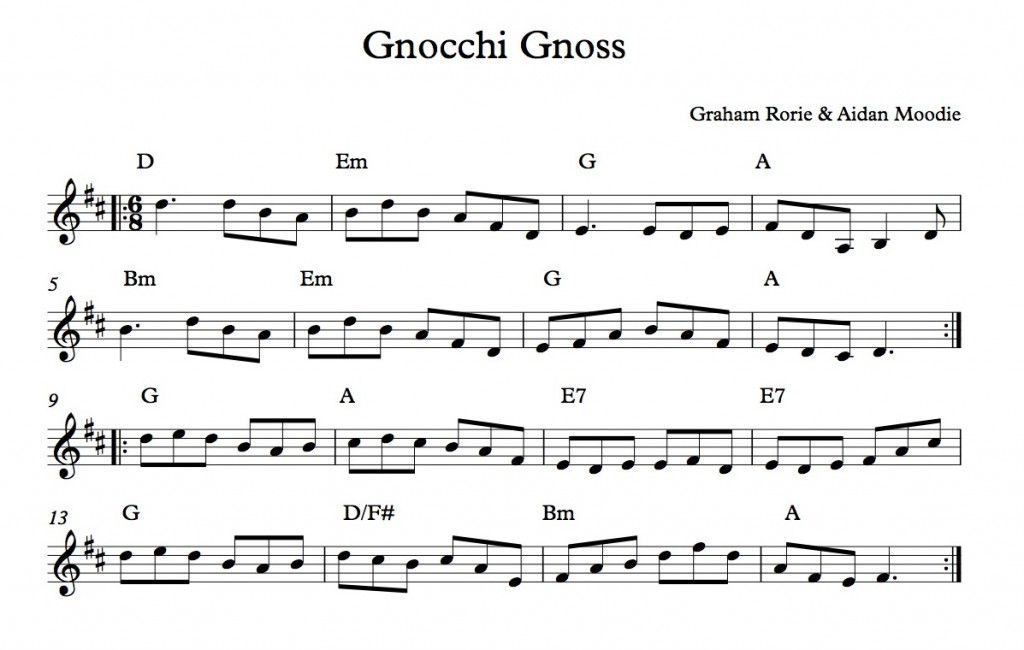 [soundcloud url="https://api.soundcloud.com/tracks/211439157″ params="auto_play=false&hide_related=false&show_comments=true&show_user=true&show_reposts=false&visual=true" width="100%" height="450″ iframe="true" /]
Song Composition
On the Saturday we worked on writing a song together with two young guitarists, Blair O'Davie and Eilidh O'Brien. We started the composition process by picking a key (G major) and a time signature (4/4). We then noted down all the usual chords in G major and started to come up with a chord chart from there. We started with the chorus. After the guys had picked the chords I then improvised around it and came up with a melody. We then used the same method for the verse. Hopefully at some point there will be words for the song too as I think it's great what the guys came up with in the workshop. Here's the chord chart and also a rough recording from the workshop.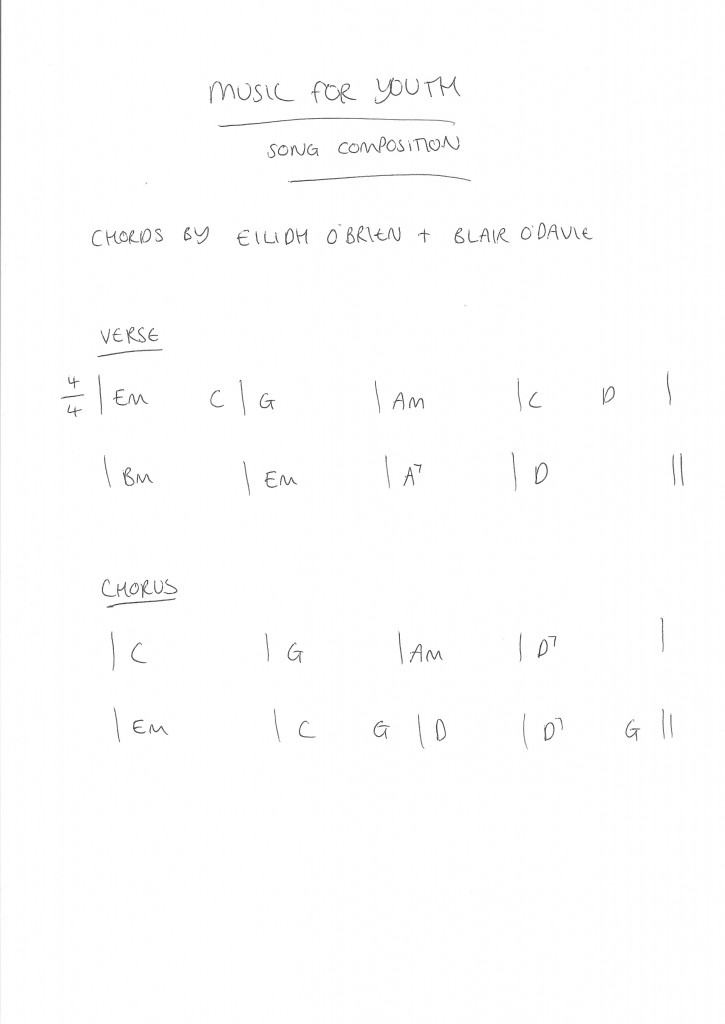 [soundcloud url="https://api.soundcloud.com/tracks/211437841″ params="auto_play=false&hide_related=false&show_comments=true&show_user=true&show_reposts=false&visual=true" width="100%" height="450″ iframe="true" /]