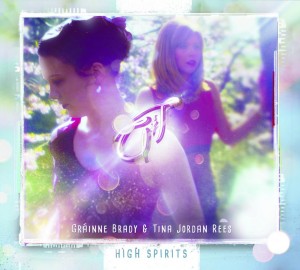 I've been very busy this year recording an album with Gráinne Brady. HIGH SPIRITS has ten tracks which are solely comprised of our own compositions. I play piano, flute and whistle on the album and Gráinne plays fiddle. We had some amazing guest musicians join us to create the G&T Big Band for the album on guitar, double bass, bodrán and accordion.
The album, HIGH SPIRITS, has been released as a digital download on bandcamp. Click here to download your copy now. Hard copies are available as a pre-order now through the G&T website: click here to pre-order your copy now and receive a signed copy with free p&p (hard copy release date: 21st September).
For those of you who are able to make it to Glasgow, we are launching the CD on Wednesday 7th October in Stereo in the city centre. We are making a big party night out of it with music from Mec Lir and Innes Watson and finishing the night off with a trad disco! Tickets available on the door 7.30pm £10/£8 students. There is more info on the Facebook event page.
It's been a lot of very hard work making this album but it's also been great fun and I'm really proud of what we have achieved. We can't wait to have the hard copies in our hands in the next few weeks.
Cheers,
Tina 🙂