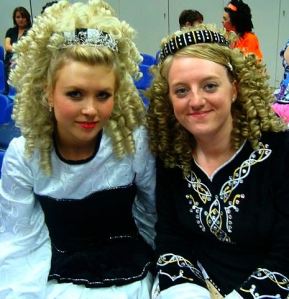 Tina Jordan Rees – Irish Dance Music
Tina loves to play the music for Irish dancers to dance to. Being an Irish dancer herself, she knows how important the music is to every dancer's performance. It is an integral part of Irish dancing. Tina's aim is to create and play music which is fun, lively, and bouncy. As well as playing traditional tunes and contemporary tunes, Tina also composes many of her own tunes. This all adds variety and excitement to the music for the dancers, the audience and Tina herself.
In 2012 Tina released her debut Irish dance album Féistastic. This exciting CD boasts 20 tracks including traditional and contemporary Irish and Scottish tunes as well as many original compositions by Tina. Shortly after releasing the CD, Tina brought out a tune book, Féistastic Tunes, which accompanies the CD. She released an exciting follow up CD in 2013, Féistastic 2, which has been popular worldwide. In 2017 she released the third in the popular series of albums, Féistastic 3.
When playing at féiseanna Tina plays a Yamaha PSR 2000 keyboard. She play all the melodies live with her right hand and the accompaniment with the left.
Click here to book Tina for a féis.
Féiseanna Tina has played at:
Clan de Rinci Féis 2017 (An Coimisiún) – Newcastle, England
Australian International Oireachtas 2017 (An Coimisiún) – Gold Coast, Australia
Glasgow Féis 2017 (An Coimisiún) – Glasgow, Scotland
Glasgow Féis 2016 (An Coimisiún) – Glasgow, Scotland
St Patrick's Féis 2015 (An Coimisiún) – Newcastle, England
Somerset Open Platform Festival 2015 (FIDTA) – Somerset, England
British Open Championships 2014 (CAID) – Dalkeith, Scotland
St Patrick's Féis 2014 (An Coimisiún) – Newcastle, England
Edinburgh Open Féis 2014 (Open Platform) – Edinburgh, Scotland
Mainland European Championships 2013 (An Coimisiún) – Krakow, Poland
Alex Strange Open Féis 2013 (An Coimisiún) – Southport, England
Cheshire Championships of Irish Music & Dance 2013 (An Coimisiún) – Manchester, England

Ulster Championships 2013 (CRDM) – Carrickfergus, Belfast, Northern Ireland
Blackburn Open Féis 2013 (An Coimisiún) – Blackburn, Lancashire, England
World Championships 2013 (WIDA) – Dusseldorf, Germany
European Championships 2013 (WIDA) – Dusseldorf, Germany
Claddagh Féis 2013 (An Comhdháil) – Watford, England
Banbridge Open Féis 2013 (WIDA) – Banbridge, Northern Ireland
Irish Open Championships 2012 (WIDA) – Dublin, Ireland

McInerney Open Féis 2012 (An Coimisiún) – Swindon, Bristol, England

Cheshire Championships of Music and Dance 2012 (An Coimisiún) – Manchester, England

Blackburn Open Féis 2012 (An Coimisiún) – Blackburn, Lancashire, England

Scanlon Féis 2012 (An Coimisiún) – Birmingham, England

Féile Rince na Carraige 2011 (An Coimisiún) – Clonmel, Co Tipperary, Ireland

Dot Redmond Memorial Féis 2011 (An Coimisiún) – Castlebar, Co Mayo, Ireland

Blackburn Open Féis 2011 (An Coimisiún) – Blackburn, Lancashire, England

Herring Clarke Class Féis 2010 & 2009 (An Coimisiún) – Blackburn, Lancashire, England