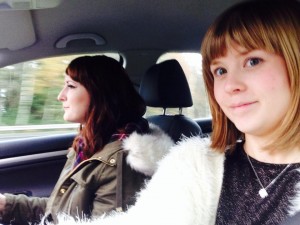 This week Kristan Harvey and myself went on a wee tour around Speyside performing on behalf of Live Music Now Scotland. From Monday to Wednesday we did six concerts across Newtonmore, Aviemore, Grantown on Spey, Boat of Garten and Nethybridge. We performed in four primary schools, a sheltered housing establishment for elderly people and also a care home for the elderly.
In the primary schools we gave the children (and staff) a mixture of performance, learning and participation. We taught them all about different types of tunes in the Scottish music tradition and we had lots of excited volunteers up to be our conductor, making us play fast, slow, loud and soft, which was great fun. I recognised a lot of faces from Fèis Spè which I had taught at in Aviemore in the October holidays so that was nice as well.
In the care home and sheltered housing the audiences were lovely too. I love performing to the elderly and seeing the joy that it brings to them. In each concert Kristan usually plays a solo piece on fiddle and I play one on the piano. I usually play a tune that I've written myself and for some reason I decided to play a tune which I have never played before in a Live Music Now concert. I played one of my newest compositions called 'Pendle Hill'. When I introduced the tune I asked if anyone had heard of Pendle Hill and one gentleman said "yes, I'm from Clitheroe!" I said "you're not?! I'm from Clitheroe!" It made my day. And we had a nice chat about Clitheroe after the performance.