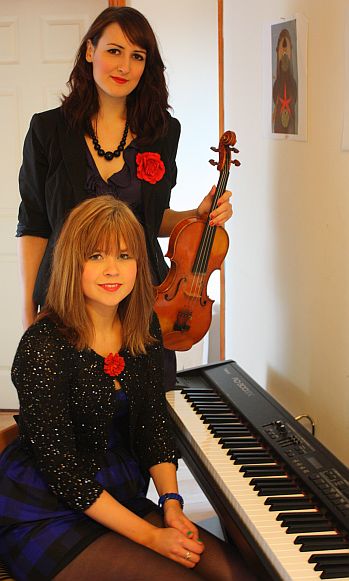 Tina Jordan Rees and Kristan Harvey
In November 2011, Tina and fiddle player Kristan Harvey auditioned to become part of the music project Live Music Now. The piano and fiddle duo were delighted to be accepted and performed their first concert together in Glasgow in March 2012.
Live Music Now is the largest provider of live music to the UK's welfare, educational, justice and health sectors, with a unique resource of specially trained musicians. Involving 200,000 people each year in live music projects, Live Music Now works with over 150 delivery partners in the UK.
Live Music Now is dedicated to increasing access to high quality live music to those who would otherwise be excluded through disability, disadvantage, ill health, poverty, social isolation or imprisonment.
Bringing live music to special needs (particularly children), wellbeing (particularly older people), justice system, early years:
Live Music supports the development of self esteem, creativity, learning and social skills, for those with learning difficulties or physical disabilities.

Live music stimulates and engages older people, providing opportunities for social interaction and physical movement, and triggers memories for all, even those with dementia.

Live music offers adults and young people on the margins of society opportunities to take part in activities that raise aspirations, broaden horizons and encourage long-term changes to patterns of anti-social behaviour.

Live music brings opportunities for the very young, particularly in deprived communities, to develop learning and social skills through musical play and storytelling.
Kristan Harvey & Tina Jordan Rees – Live Music Now Duo
Tina and Kristan first met at the Royal Scottish Academy of Music and Drama in Glasgow, where they were both studying music degrees. Both were finalists of the 2011 BBC Radio Scotland Young Traditional Musician of the Year. Through this they started playing together when they recorded an album with all the finalists from that year and later went on to tour Scotland performing as a group. They enjoyed playing together and decided to try our hand at being a duo with Live Music Now.